If you are interested in the BAKUGAN reboot, check out our sister site,
Brawler Cafe
, and join its
discord
too.
Buddy Legends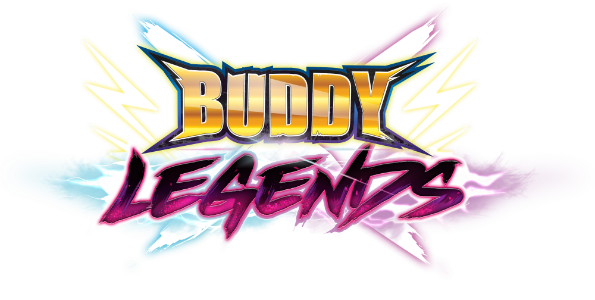 This set was released on April 20th, 2018 in English.
Box Topper Information
Each box comes with one of these six box topper promos: - Great Warlock's Disciple, Zessica - Sun's Bond, Bal Dragon - Destructive Tiger Dragon, Tyrant Tiger Drake - Quinq Lada II, New Armament Test Frame - Mikazuchi Knight, Rebellious - Darkdeity Dragon, Jamjammer Sahasham
The Beginning of A New Arc! In April, the animation will feature a new tournament, the GGG Cup!!! Cards used by Buddyfighters in that tournament will be included in this booster pack! Trump cards used in the final stages of the current season will also be included!! A Collection of Legendary Monsters! Legendary Monsters will appear as new cards in Buddy Legends! Many cards in this booster will also upgrade various decks of ALL WORLDS since the beginning of Buddyfight!! The Primary Worlds of this set are: All! Every pack definitely has one R or above rarity card! Guaranteed one SECRET pack sealed in every display! Total of 85 types +10 SECRET types BR : 4 / SP: 3 / SECRET : 10 / RRR: 8 / RR: 12 / R: 18 / U: 14 / C: 16 Common, uncommons and Rare card parallel foils will also be inserted in random packs in addition to the normal rares!
Gao Mikado Secret Pack
- Overturn Armordragon, Drum Bunker Dragon - Bal Dragon, "Bal Blaster Granbolt!" - Future Fangs, Barlbatzz Future Cross - Buddy X Cross - Future Force "DX"
Tasuku Ryuenji Secret Pack
- Future Sword, Jackknife "Granthese" - Jackknife, "Genesic Batterizer!" - Purgatory Knights Liberator, Orcus Sword Dragon - Jackknife Statue - Into the future...
Buy Your Products Here!
Danger World
Darkness Dragon World
Dragon World
Katana World
Magic World
Share Your Thoughts!