Buddy Legends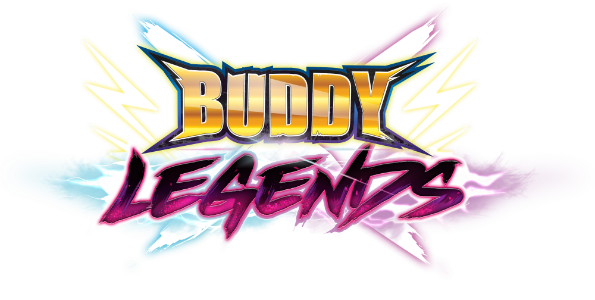 This set will be released on April 20th, 2018.
CoroCoro February 2018 Anime & Deck Support News!
The new season is titled "Buddyfight X - All Star Fight"! It has now been confirmed that in this new season of X2 the old characters of Bal, Drum and Ikazuchi will be returning! Impact Monsters will make a comeback as well, and many Special Flags seem like they will be strengthened this season! Also, the villains Kyoya and Wisdom will return, working together to break out of jail. Link to the images about All Star Fight from this month's CoroCoro
The Beginning of A New Arc! In April, the animation will feature a new tournament, the GGG Cup!!! Cards used by Buddyfighters in that tournament will be included in this booster pack! Trump cards used in the final stages of the current season will also be included!! A Collection of Legendary Monsters! Legendary Monsters will appear as new cards in Buddy Legends! Many cards in this booster will also upgrade various decks of ALL WORLDS since the beginning of Buddyfight!! The Primary Worlds of this set are: All! Every pack definitely has one R or above rarity card! Guaranteed one SECRET pack sealed in every display! Total of 85 types +10 SECRET types BR : 4 / SP: 3 / SECRET : 10 / RRR: 8 / RR: 12 / R: 18 / U: 14 / C: 16 Common, uncommons and Rare card parallel foils will also be inserted in random packs in addition to the normal rares!
Gao Mikado Secret Pack
- Super Armor Overturn Dragon, Drum Bunker Dragon - Bal Dragon, "Bal Buster Grand Bolt!" - The Fang that Proceeds Towards the Future, Barlbatzz Future Cross - [unknown card] - Future Force "DX"
Tasuku Ryuenji Secret Pack
- Sword from the Future, Jackknife "Grandes" - Jackknife, "Genesic Battleraiser!" - Liberator of the Purgatory Knights, Orcus Sword Dragon - Jackknife Statue - into the future...
Dual World & No World
Ancient World
Danger World
Darkness Dragon World
Dragon World
Dungeon World
Hero World
Katana World
Legend World
Magic World
Star Dragon World