Apologies for the downtime during the Climax Set cardlist drops. We have upgraded our servers to avoid this in the future.
Also, if you are interested in the Bakugan reboot, check out our sister site,
Brawler Cafe
, and join its
discord
too.
Miracle Fighters ~Miko & Mel~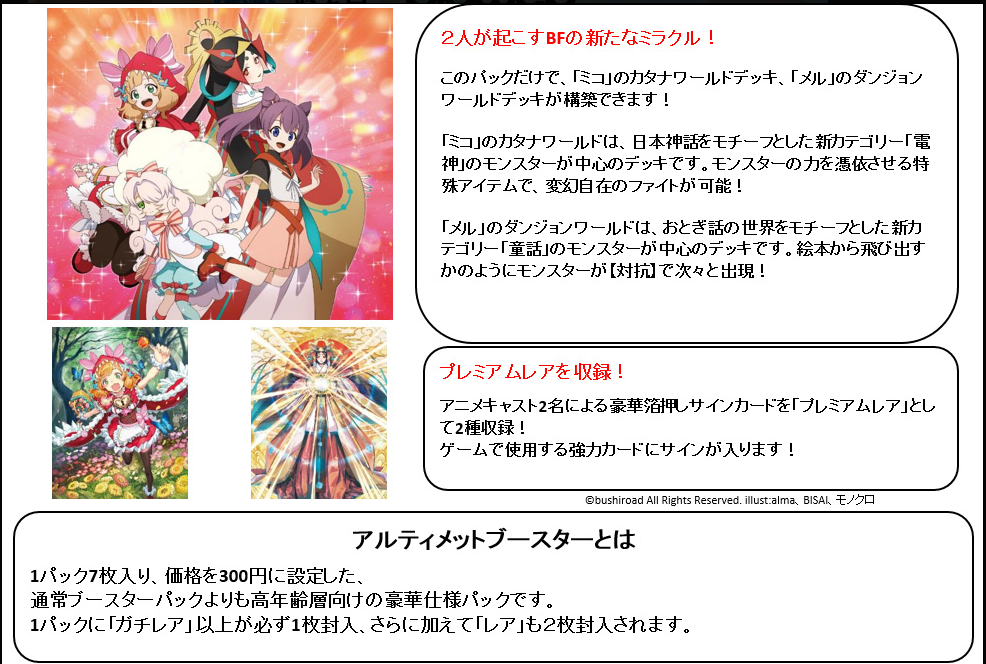 This set was released on September 14th, 2018 in English. This set was released on August 4th, 2018 in Japan.
For the first time, Ultimate Boosters will come to English in their original release form! (
source
) With this pack alone, you can build Miko's Katana World deck and Mel's Dungeon World deck! Miko's Katana World deck features a new monster attribute, «Electrodeity» with Japanese mythology as its central motif. It features a special item that harbors the power of monsters! Mel's Dungeon World deck features a new «Fairy Tale» attribute, with the motif of a fairy tale world. As if popping out of a picture book, monsters appear one after another with [Counter]! Two kinds of gorgeous foils with anime cast signatures are included as "Premium Rare". A powerful card used in the game will be signed! 68 Card Types (2 BR/2 Premium Rare /6 RRR/12 RR/18 R/24 U) [reprints included] Each pack includes 7 cards, RR or greater is guaranteed per pack (but no two RRR in one pack). Each box includes 10 packs, with 8 RR and 2 RRR per box.
Buy Your Products Here!
Dungeon World
Katana World
Share Your Thoughts!