Gargantua Awakened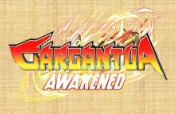 This set will be released on August 31st, 2018. This set was released on July 5th, 2018 in Japan.
Card Types: 97 (6 reprints) [BR: 3/ SP: 4/ AR: 3/ SECRET: 15/ RRR: 8/ RR: 12/ R: 12/ U: 16/ C: 24] This set will feature Dragon World, Danger World, Ancient World, and Star Dragon World. This set will also feature a new rarity, "Ace Rare", hotstamped versions of Buddy Monsters! One of each will appear in every booster box! The Ace Rares for this set are "
Gargantua Dragon
", "
Divine Dragon, Cross Astrologia
", and "
Lightning Axe, Agito
".
Rule Changes
As of the start of Ace, there will be three major rule changes. 1) The first player will draw on their first turn. 2) There will no longer be a limit on the number of [Counter] you can use during a single battle. This does not change how chains work, but allows you to perform multiple chains in a single battle. 3) Players will only be able to gain one additional turn at a time. To be specific, you can gain an additional turn, and cannot gain another additional turn until your opponent's turn. To go along with these rule changes "Trap Maker" will be errata'd to once per battle.
Demo Caravan
Buddyfight Ace will have a Demo Caravan run in Japan from May 19th to July 1st! Players who have never tried Buddyfight before can learn the game at demonstrations and receive a fighter certificate, and all participants will receive a deckbox and 2 promos featuring the new characters! The poster has also given us a closer look at the monster form of Garga. The Demo Caravan is currently only in Japan, but should this change we will let you know!
Dual World & No World
Ancient World
Danger World
Dragon World
Lost World
Star Dragon World