If you are interested in the BAKUGAN reboot, check out our sister site,
Brawler Cafe
, and join its
discord
too.
Chaos Control Crisis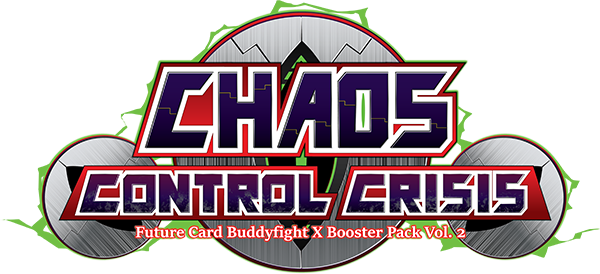 This set was released on July 14th, 2017 in English. A new flag, "the Chaos", enters the fray in this latest addition! This flag is used by Wisdom, a new character in the animation series! This flag will feature in this booster along with Wisdom's buddy, Geargod VII. Many essential cards from this flag are only found in this latest booster! On top of that, the cards in this booster have high synergy with the Decimating Black Dragon Trial Deck, which goes on sale on the same day, giving you everything you need for a formidable new deck! Many epic cards in the animation's episodes in July are included in this booster. These new cards are about to bring a revolution to the way Darkness Dragon World and Legend World decks are played! X-BT02 also further enhances the two main characters' worlds, Dragon World and Star Dragon World! Only for the first print of this booster, 1 of 4 limited edition PR card will be included in each box! ・
Darkness Healing
・
Demon Lord Unleashed, Batzz
・
Dazzling Quintessence Crystal, Athora
・
Control Armament, Geargod VII
This product contains cards from Worlds : Dragon, Legend, Darkness and Star Dragon. 114 types of cards (BR: 3 / SP: 6 / RRR: 8 / RR: 12 / R: 25 / U: 30 / C: 30) Common, Uncommon and Rare card parallel foils will also be inserted in random packs in addition to the normal rares! 5 cards per booster, 30 booster per box, 16 boxes per carton
Buy Your Products Here!
Dual World & No World
Darkness Dragon World
Dragon World
Legend World
Star Dragon World
Share Your Thoughts!