Apologies for the downtime during the Climax Set cardlist drops. We have upgraded our servers to avoid this in the future.
Also, if you are interested in the Bakugan reboot, check out our sister site,
Brawler Cafe
, and join its
discord
too.
Dimension Destroyer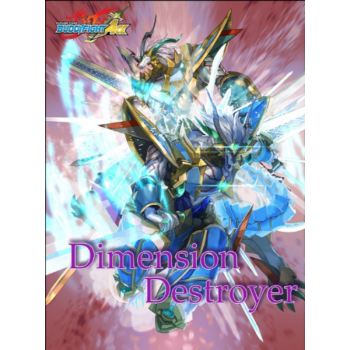 This set was released on November 2nd, 2018 in English. This set was released on October 6th, 2018 in Japan. Many monsters from the animation are included in this booster!!! Succeeding BT01 ― "Gargantua Awakened", cards from Dragon, Ancient and Star Dragon World are MAJORLY included in this booster pack! And this time round, cards from Katana World are added too! It's time to evolve your decks! Cards related to the mysterious Special Series Vol. 1 are included too...? Popular SECRET Packs! 3 patterns in total! One SECRET pack guaranteed per box! First Print Box-Toppers! Each box includes one character illustration Flag card! Total of 8 types! Limited only to the first print edition! Primary World & Card Types Primary Worlds: Dragon, Katana, Star Dragon, Ancient BR: 3 / SP: 4 / AR: 2 / SECRET: 15 / RRR: 8 / RR: 12 / R: 12 / U: 16 / C: 20 (No reissued cards in this set!) Product Specifications 1 carton (16 display boxes x 30 packs) 5 cards in 1 pack Every pack guaranteed one R or above rarity card! Every box guaranteed one SECRET pack & one of each AR!!!! Parallel foils of commons, uncommons and rares are randomly inserted.
Buy Your Products Here!
Ancient World
Dragon World
Katana World
Lost World
Star Dragon World
Share Your Thoughts!